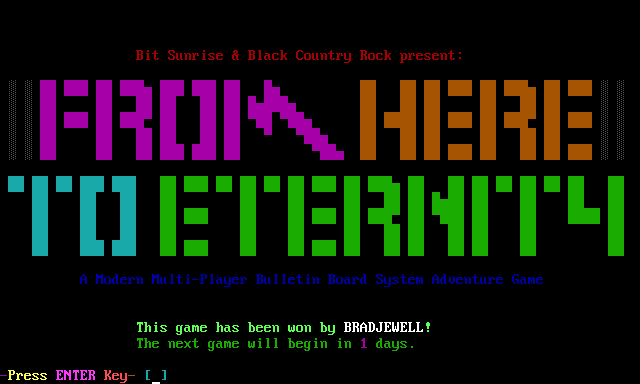 Shooter Jennings' new BBS door game, "From Here to Eternity" officially launches today, Sept. 28, 2015.
As Jennings told me in our interview, he is offering 1 Bitcoin (approximately $240) as a prize to the "the first player to pass through The Coil (the final gate) with all 20 artifacts."
The game will last for 30 days, or until someone wins.
You can access Bit Sunrise BBS and play the game over the web using a browser-based client at bitsunrise.com.
If you want a more authentic experience, then fire up a terminal program like SyncTerm, and telnet to bitsunrise.com.
And don't forget to read my interview with Shooter. We talked about BBSing, retrocomputing, and how writing "From Here to Eternity" helped him after the loss of a close friend.