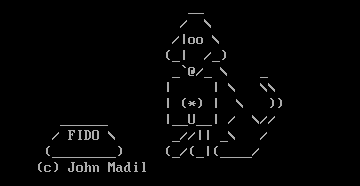 FidoNet message archive
What was it?
This is a collection of FidoNet messages dating from 1993-1999. They were archived by Josh Renaud in 2015-2016 from message boards "frozen in amber" on two BBSes.
The largest set consists of more than 300,000 messages salvaged in 2015 from FidoNet message boards on ExecPC BBS. The earliest messages in this set were posted in Nov. 1993 in a Ross Perot echo. ExecPC's connection to FidoNet seems to have gone down in June or July 1998. A handful messages were posted by local ExecPC users after that until Sept. 1999.
The second, smaller set consists of around 1,200 FidoNet messages saved from the Starfleet HQ BBS in 2016. These message come from three Atari ST-related FidoNet echoes and date from Sept. 1995 - Jan. 1996.
Download the messages
More information
These messages were saved through the telnet text interfaces of two BBSes.
The files are not FidoNet messages packets, nor are they any in standard FidoNet message format.
Rather, these are just ASCII text files, appearing as they would have appeared to a user connected to the BBS, scrolling through the echoes.
I want to emphasize that I have not altered the headers or content of any of the messages. The only cleanup I performed was to remove pause prompts from the BBS which interrupted the Starfleet HQ messages (e.g. "- [Q]uit/[C]ont/More -").
The format of the messages is different between the two sets, because ExecPC and Starfleet HQ were very different BBSes. (ExecPC was one of the largest BBSes in the world with thousands of users. Starfleet HQ, by contrast, ran on a humble Atari ST with limited storage capacity.)
Both BBSes truncated the message board / echo names, as well as message subjects, to ensure the headers would fit on an 80-column screen. This truncation may make it difficult to map some of the message boards precisely to known FidoNet echoes.
For comparison, here is a list of Exec PC's 174 Fidonet message boards, as well as a contemporary Fidonet echolist from 1997.
Other archives
I submitted these messages to Jason Scott, who uploaded them to the Internet Archive; and to Andrew Clarke, who for more than a decade maintained a massive FidoNet archive at fidonet.ozzmosis.com with millions of messages.
The Ozzmosis archive was very large, but most of its messages dated from the 2000s. In 2015, I calculated that only about 7% (215,000) of the Ozzmosis messages were dated prior to 2000, as shown in the bar chart above. The 300,000 messages in my archives dated mostly from the mid-1990s, close to the height of the BBS scene, and were not repeats of messages in the Ozzmosis archive. It had been my hope that Andrew would parse and integrate my cache of FidoNet messages into his archive.
Andrew did write a parser in Python, which can convert the ExecPC archive into individual FTS-1 formatted .MSG files, separated into folders by echo. But as far as I know, the messages were never integrated — and in late 2019 his FidoNet archive went offline. You can download the parser here:
The good news is that Glenn Rossi managed to save most of the Ozzmosis Fidonet archive before it went down. He is hosting it on the Message Archive section of his "BBS Resource Site", along with more than 2 million Usenet messages and other goodies.
Want more?
See some of Break Into Chat's other special collections.
Interested in BBSing, door games, or retrocomputing? Check out the Break Into Chat BBS wiki or the blog.